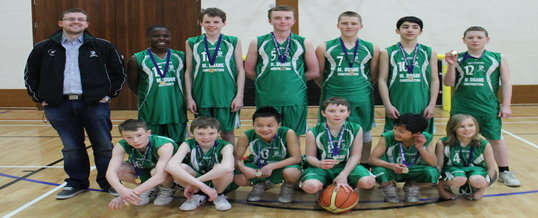 Davitt College's 1st year Boys won their last league game against St. Clares, Manoramilton
31 – 4 to top their group. This win saw them through to the Regional Final versus Sligo
Grammar in the Sligo Regional Sports Centre. They put in another great performance in the
final to win 45 – 8.
Davitt got off to the best possible start and thanks to a last second 3 pointer from Emil
Samko they lead 15 – 1 at the end of the first quarter. In the second quarter Davitt's boys
kept their momentum. A great defensive display from Eoin O'Malley and four baskets from
Bartek Zalewski meant Davitt's lead 25 – 1 at half time.
The third quarter was a close one but baskets from James Finnerty and Kieran Costello
extended Davitt's lead to 33 – 6 .
The fourth and final quarter was won comfortably by Davitt. Baskets from Bah So and Noel
Geraghty meant Davitt College ran out 45 – 8 winners. That win puts the team through to
the All-Ireland play-offs on the 21st of April.