Davitt College, Castlebar Students success at National SciFest Competition 2018!
It was an outstanding day for the students of Davitt College, Castlebar at this year's SciFest Competition which was held in the Sligo Institute of Technology on Wednesday 9th May 2018. The school had six projects entered and on the day took three Major Awards, including a Special Award. The students were mentored by Davitt College Science Teacher Ms. Fiona O'Connor. The aim of SciFest is to encourage a love of Science, Technology, Engineering and Maths through active, collaborative, inquiry-based learning and to provide a forum for students at Local, Regional and National Level to present and display their scientific investigations. SciFest is funded by the Science Foundation Ireland Discover Programme, Intel Ireland and Boston Scientific.
Transition Year Student Michael Fleming attracted much attention from the judges and won the Intermediate Technology Category, with his project "Talking Robots". Well done Michael!
Transition Year Students Keith Mulchrone, Shane Dyra and Olivia Fahey won the coveted SciFest BioPharmaChem Ireland Chemistry Award for their Project – "Water, A fuel of the Future". They also won First Place the Intermediate Physical Science Category.
Mrs. O'Connor, Science Teacher, was recognised by the judges for her excellence in Science and was awarded the RSC School Chemistry Award (Royal Society of Chemistry Education Division).
Congratulations to all students and teachers involved – the future looks very bright indeed with such clever and creative young people.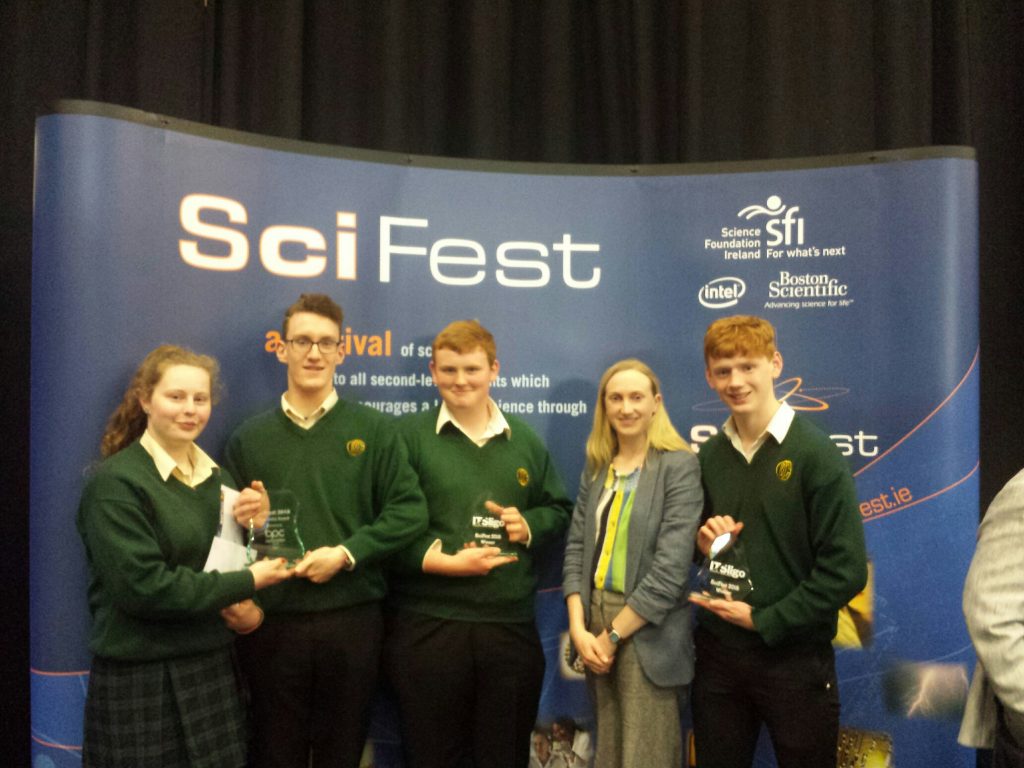 Congratulations to Davitt College Students Olivia Fahey, Keith Mulchrone, Shane Dyra Ms. Fiona O'Connor (Teacher) and Michael Fleming who were successful at the 2018 Scifest Competition held in Sligo Institute of Technology on Wednesday 9th May 2018.