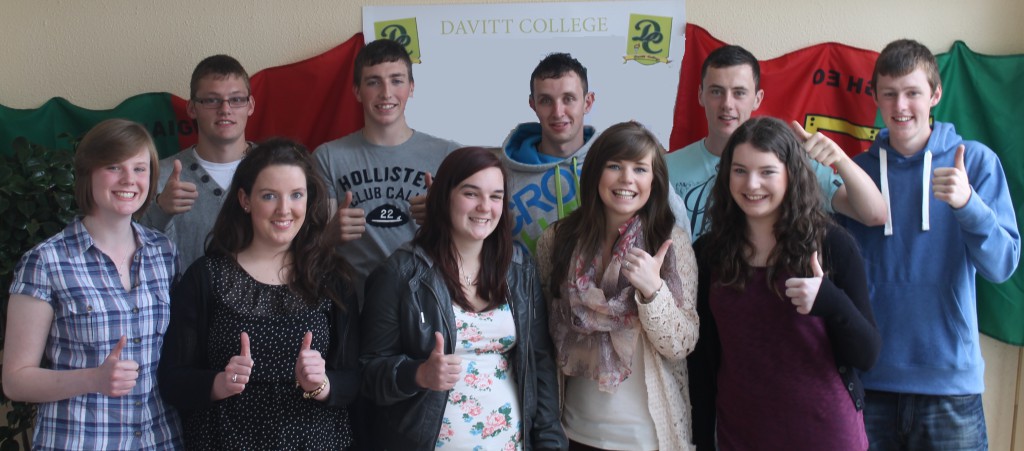 The Leaving Certificate students of 2013 at Davitt College, Castlebar dropped in to their school recently to say goodbye and thank teachers and staff for their six years of post-primary education. These young men and women are embarking on Third Level courses in universities and training colleges throughout Ireland for the academic year 2013/2014.
"I will certainly miss Davitt College," said Hazel Lawless. "We have had some unforgettable times and we have definitely made friends for life." "The Transition Year Programme was one of the highlights for me," she said.
"Davitt College is student centred and has a very broad range of subjects," said Hannah Mulchrone. "There is a wonderful relationship between students and teachers and a great support system for everyone. Teachers are enormously generous with their time and talents. I will miss that," she said.
Ever the sports man, Diarmuid O'Connor was quick to reflect on the great sports teams and football training he experienced at Davitt College. "The Joe Langan Sports Hall and Gym is a huge asset to Davitt College," he said. Diarmuid is a member of the victorious Mayo All-Ireland Minor Champions 2013 team. And it is no surprise at all that Diarmuid is pursuing a B.Sc. Degree in Sports Science at Dublin City University.
"There is definitely a trend towards the sciences this year," said Bernie Rowland, Davitt College principal. "We offer all four science subjects at senior level, Physics, Chemistry, Biology and Agricultural Science." "There has been a steady increase in the uptake of these subjects over the past two/three years and this is evident when you consider the degree programmes students are choosing at Third Level," she said.
PHOTO CAPTION
Leaving Certificate students of 2013 at Davitt College, Castlebar. Pictured (from Left) Hannah McEllin (B. Sc. in General Nursing), Noel Conlon (B. Sc. in Mathematical Science, NUIG), Rachel Farragher (B. Sc. in Environmental Science, NUIG), Robbie Fadden (B. A. in Accounting & Finance, DCU), Sarah Roache (B. Sc. in General Science, Trinity College Dublin), Darren Flannery (B. Sc. in Athletic Therapy & Training, DCU), Hazel Lawless (B. Ed. Home Economics with Biology, St. Angela's College, Sligo), Diarmuid O'Connor (B. Sc. in Sports Science, DCU), Hannah Mulchrone (B. Education – Primary Teaching, St. Patrick's College, Dublin) and William Conlon (B. Sc. in Agricultural Science, UCD) –Missing from photo; Aiman Elhilali (B. Sc. Pharmaceutical Science, DCU) and Eadaoin Donnelly-White (B. A. with Human Rights, NUIG)