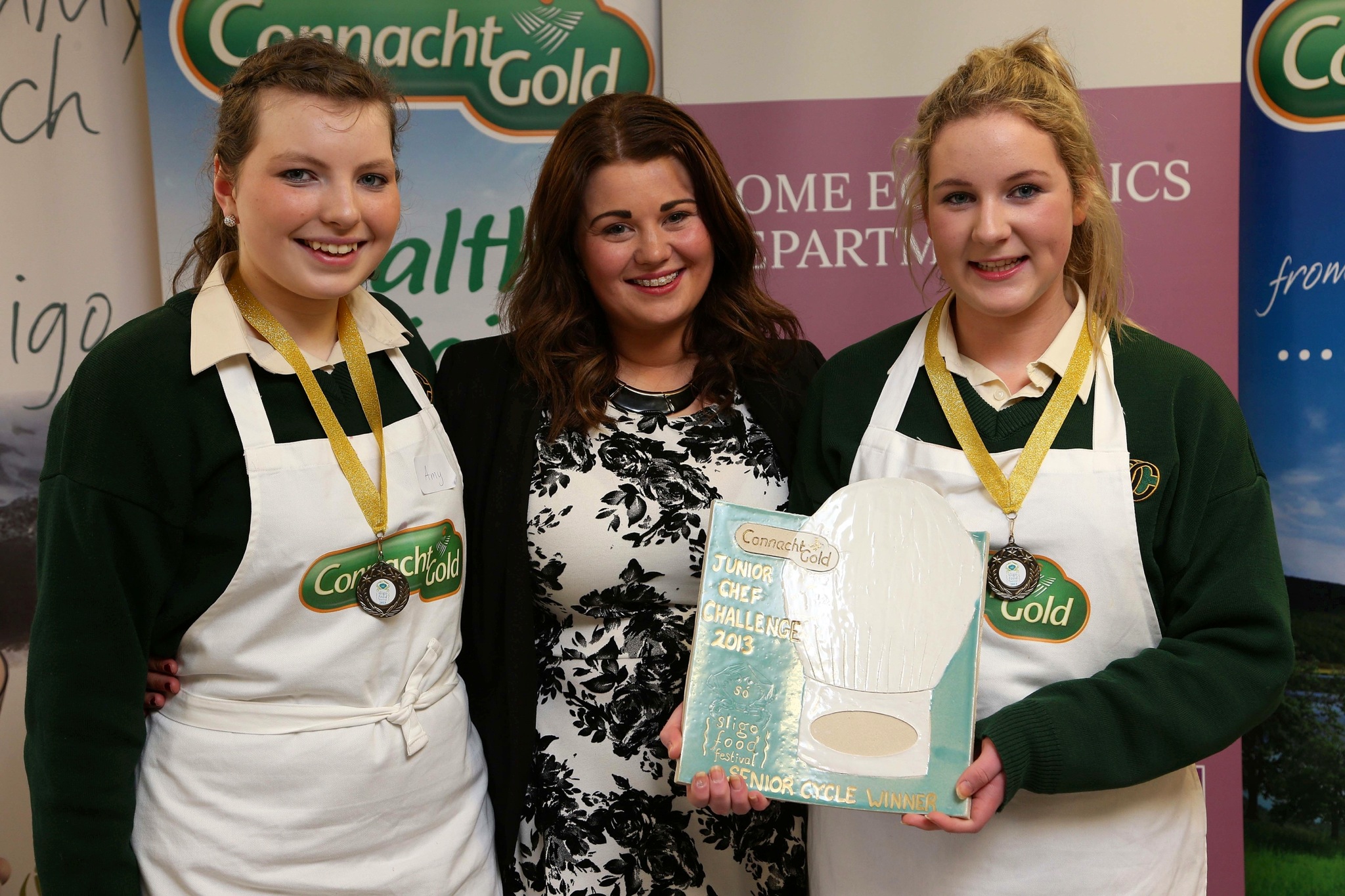 o
Gold for Davitt College Students!
Laura Ivers, Davitt College, Castlebar Transition Year student has been named The 2013 Connacht Gold Junior Chef. Laura was one of 18 Secondary School students selected from all entries to compete in the Final. She displayed her culinary talent in abundance and sautéed her way into first place at the cook off held in St. Angela's College as part of the So Sligo Food Festival.
Transition Year student Laura cooked a gourmet menu of Spinach and Ricotta Cannelloni, served with green salad and garlic crostini for main course and she finished her meal with a mouth watering white chocolate and almond tray bake accompanied with homemade vanilla custard and strawberry coulee.
Laura was a Gold Medal winner in the Senior Category and also scooped Overall Winner Award of the competition. As her prize she won a specially commissioned trophy, a one day working scholarship at the Radisson Blu Hotel, Sligo, with TV3 Ireland AM resident chef, Joe Shannon and an iPad mini.
Davitt College was the only Post Primary School in the competition to have two students participating in the Final. 5th Year Home Economics student Amy Mulchrone displayed her culinary expertise and was also awarded a Gold Medal in the Senior Category of the competition. Her menu of chicken stuffed with cream cheese and sundried tomatoes wrapped in smoked bacon, served on a bed of creamed mashed potatoes and celeriac, accompanied by green beans for main course, followed by vanilla panna cotta, raspberry compote and almond biscotti aptly displayed her culinary talents and professionalism in the kitchen.
"In Davitt College Home Economics has become increasingly popular in recent years," said principal, Ms. Bernie Rowland. "We are very fortunate to have two fully equipped state-of-the-art Home Economic Rooms and the subject has become almost as popular with boys as it is with girls. There has been a notable increase in the number of students taking the subject at Higher Level both in Junior Certificate and Leaving Certificate and examination results far exceed the national average." Ms. Fiona Murtagh, Home Economics teacher stated: "The subject itself aims to equip students with the life skills necessary to be self-sufficient both now and in the future, therefore, we encourage that it is studied by both boys and girls. The Home Economics department in Davitt College constantly strives to encourage creativity in the kitchen. The competition was a fantastic opportunity for Davitt College Home Economics students to display their skills and passion for cooking. We are very proud of our two students and their excellent accomplishments."
The competition was part of Só Sligo Food and Culture Festival run in conjunction with Connacht Gold. Seamus Hannon from Connacht Gold said: "We are delighted to be running this competition which celebrates local produce while encouraging budding chefs to put their skills to the test."