1916 Commemorations in Davitt College
There was singing, poetry reading, striking works of art and poignant recollections of the heroes who fought and died, in events in Ireland 100 years ago. And there was much more. Davitt College embraced the challenge with enthusiasm and creativity. Months of hard work from the 1916 Committee in Davitt College culminated in a unique and unforgettable day of remembrance and vision.
The event started with wonderful music from the Davitt College Orchestra under the excellent direction of Music Teacher, Ms. Claire Kennedy. The Fifth Year History classes worked on writing biographies on the seven signatories of the proclamation whilst the Second Year Art classes created poignant sketches of the leaders. Mr. Noel Campbell from The National Museum of Ireland in Turlough and Author of "A History of Castlebar", spoke in detail about the 1916 events in Mayo and the effect it had on the communities. Ms. Bernie Rowland, Principal spoke about the significance of the Proclamation and its influence on the New Generation and the importance of mutual respect in all aspects of Life. The reading of the Proclamation by Leaving Certificate student Thomas Mongey was then followed by the raising of the flag by Fifth Year students Michael Graven and Eoin O'Doherty.
It really was a most special and memorable day.
[one_half]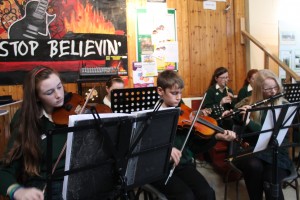 [/one_half]
[one_half_last]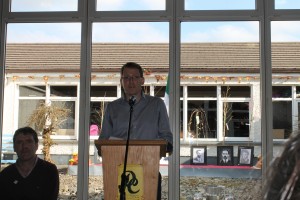 [/one_half_last]
[one_half]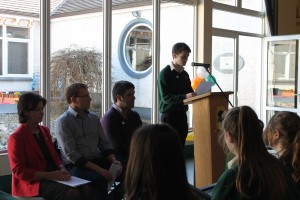 [/one_half]
[one_half_last]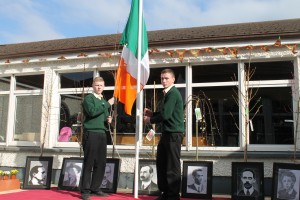 [/one_half_last]